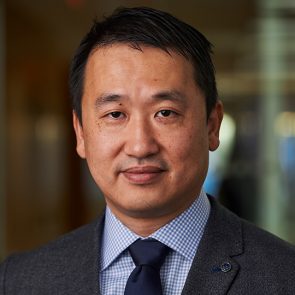 Eric Zhang Joins General Atlantic as Head of China[:zh]张弛加入泛大西洋投资集团,担任中国区主管
June 5, 2016
General Atlantic, a leading global growth equity firm, announced today that Eric Zhang, former Global Partner and Managing Director of The Carlyle Group, has joined General Atlantic as Managing Director and Head of China. Mr. Zhang will lead the firm's investments in growth companies across China.
"We are excited to build upon our 16 years of experience partnering with leading entrepreneurs and growth companies in China," said Bill Ford, Chief Executive Officer of General Atlantic. "Eric's impressive track record in Asia, deep local expertise, and proven ability to invest in and partner with outstanding companies make him an ideal leader for our local team and long-term efforts in China."
General Atlantic has been investing in China since 2000 and has invested $1.5 billion in 17 different investments. General Atlantic currently has four offices in Asia located in Beijing, Hong Kong, Singapore, and Mumbai.
"General Atlantic has capitalized on the emergence of innovative entrepreneurs and rapidly scaling companies. GA's unique global capability and unparalleled experience working with growth companies make GA the partner of choice for disruptive companies in China. I look forward to building and leading the firm's presence in China for many years to come," said Mr. Zhang.
Mr. Zhang joins General Atlantic from The Carlyle Group where he worked as Global Partner and Managing Director focused on buyout and growth investments across Asia from 2006 to 2016.  At Carlyle, he led numerous successful private equity transactions.  He is currently on the board of directors of 58.com (NYSE: WUBA) and has previously served on the boards of China Reading, Soufun (NYSE:SFUN), Yashili (HKSE: 1230), Plateno Group, Crystal Orange Hotel Group, Kaiyuan Hotel Group and New Century Asset Management Co. Ltd (HKSE: 1275), and AnNeng Logistics Group.
Previously, Mr. Zhang was a Vice President in the Mergers and Acquisitions group at Credit Suisse based in Hong Kong. Prior to that, he was a Vice President in the Investment Banking department at China International Capital Corporate Limited. Mr. Zhang received his master's degree in economics from Shanghai University of Finance and Economics.
About General Atlantic
General Atlantic is a leading global growth equity firm providing capital and strategic support for growth companies. Established in 1980, General Atlantic combines a collaborative global approach, sector-specific expertise, long-term investment horizon, and a deep understanding of growth drivers to partner with great management and build exceptional businesses worldwide. General Atlantic has more than 100 investment professionals based in New York, Amsterdam, Beijing, Greenwich, Hong Kong, London, Mexico City, Mumbai, Munich, Palo Alto, São Paulo and Singapore.[:zh]全球领先的成长型私募股权投资公司泛大西洋投资集团("泛大西洋投资")今日宣布,前凯雷投资集团全球合伙人和董事总经理张弛先生加入泛大西洋投资,出任董事总经理和中国区业务主管。张弛先生将负责对中国成长型企业的投资业务。
泛大西洋投资首席执行官Bill Ford表示:"我们很高兴能进一步加强在中国市场的根基,我们在中国已耕耘16年,携手众多的中国优秀企业家和成长型企业共同发展。张弛先生在亚洲地区拥有出色的往绩表现、深厚的本地专长,成功对多家优秀企业进行投资并展开合作,是最适合领导我们本土团队并长远发展中国业务的理想人选。"
泛大西洋投资自2000年起投资于中国,共计做出17笔投资,投资金额达15亿美元。公司目前在亚洲设立了北京,香港,新加坡,和孟买四个办公室。
张弛先生表示:"泛大西洋投资充分把握了���代大潮,与创新型的企业家和高速拓展的企业同步发展。凭借独特的全球实力,以及与成长型企业合作上无可匹敌的经验,泛大西洋投资是中国颠覆型企业的首选合作伙伴。我非常期待在未来创建和引领公司在中国的发展。"
在加入泛大西洋投资之前,张弛先生就职于凯雷投资集团,于2006年至2016年期间担任全球合伙人和董事总经理,专注于亚洲市场的收购和成长机会。在凯雷投资集团任职期间,张先生成功主导了一系列创新的私募股权项目。他目前在58集团(NYSE: WUBA)董事会任董事,并曾在多家企业任董事会董事职务,包括阅文集团、搜房网(NYSE: SFUN)、雅士利(HKSE: 1230)、铂涛集团、桔子水晶酒店集团、开元酒店集团、开元资产管理公司(HKSE: 1275)及安能物流等。
在加入凯雷投资集团之前,张先生在瑞士信贷担任并购业务部副总裁并常驻香港。此前,他在中金公司工作6年并担任投资银行部副总裁。张先生在上海财经大学获得经济学硕士学位。
关于泛大西洋投资集团
泛大西洋投资集团("泛大西洋投资")是一家全球领先的成长型私募股权投资公司,为成长型公司提供资金和战略支持。成立于1980年,泛大西洋投资结合全球性的协作方式、特定的行业专长、长期的投资期限、以及对成长动力所在的深刻理解,在全球范围内与优秀的管理团队合作,共建卓越企业。泛大西洋投资拥有超过100位专业投资人士,分布在全球各大城市,包括纽约、阿姆斯特丹、北京、格林威治、香港、伦敦、墨西哥城、孟买,慕尼黑、帕洛阿尔托、圣保罗和新加坡。