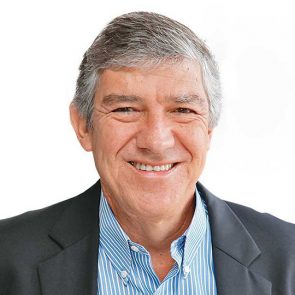 General Atlantic Appoints Fabio Villegas as Special Advisor in Colombia[:es]GENERAL ATLANTIC NOMBRA A FABIO VILLEGAS COMO SU ASESOR ESPECIAL EN COLOMBIA
Former Avianca CEO and current President of Decameron joins leading global growth equity firm[:es]El ex presidente de Avianca y Presidente de Decameron se une a la firma de capital privado global líder en inversiones en compañías de alto crecimiento
December 16, 2016
General Atlantic, a leading global growth equity firm, announced today that Fabio Villegas, former Chief Executive Officer of Avianca and current President of Decameron, has joined General Atlantic as a special advisor to the firm's operations in Colombia. Mr. Villegas will work closely with General Atlantic's teams in Latin America to identify and support business opportunities in the region.
"We are thrilled to welcome Fabio, a proven leader, and accomplished executive, to the General Atlantic team," said Bill Ford, Chief Executive Officer of General Atlantic. "Beyond his leadership skills, Fabio's deep knowledge of the Colombian business environment and his vast network of relationships make him an exceptional asset to our firm, our portfolio companies, and our prospective new investments in this region."
Martin Escobari, Managing Director and Head of Latin America at General Atlantic said, "Fabio is a respected, well-known business man and advisor in Colombia. He's worked with a number of impressive organizations throughout his career and we believe his business acumen will be key to General Atlantic's success in Colombia."
General Atlantic's global team is dedicated to identifying attractive high growth companies and providing capital and strategic support to build market leaders. Mr. Villegas joins the firm's growing team of advisors, which comprises of senior executives with industry and operational expertise in key focus areas for General Atlantic and its portfolio companies.
General Atlantic has strong ties to the South American market, with many of its portfolio companies actively operating in Colombia. The firm was previously invested in SURA Asset Management, a leading private pension fund administrator in Latin America, based in Colombia, and supported Grupo Sura in its acquisition of ING Assets in Latin America, prior to exiting the business earlier this year. General Atlantic's recent investments in Latin America include Pague Menos, Ourofino Saúde Animal, SAS Sistema de Ensino (SAS), XP Investimentos, Sanfer, and Despegar.com.
"General Atlantic is one of the most respected investment organizations in Latin America. I look forward to enriching the firm's capabilities in partnering with local entrepreneurs and management teams to build value. I look forward to working with the team," said Mr. Villegas.
Mr. Villegas joins General Atlantic from Avianca, the largest airline carrier in Colombia, where he served as Chief Executive Officer, from 2005 to 2015. While at Avianca, Mr. Villegas led the company's transition from the private markets to become a publicly-traded stock on both the Colombian and New York Stock Exchanges. He currently serves as President of Decameron, one of the largest hotel chains in Latin America.
Prior to Avianca and Decameron, Mr. Villegas served as an advisor to the Luis Carlos Sarmiento Enterprise Organization, was responsible for the Colombian operations of Deutsche Bank and Rothschild Group, and worked for the Colombian National Association of Financial Institutions (ANIF). Throughout his career, he has served in key positions in the public and private sectors including serving as General Secretary of the Presidency of the Republic of Colombia and Minister of Government in Colombia.
About General Atlantic
General Atlantic is a leading global growth equity firm providing capital and strategic support for growth companies. Established in 1980, General Atlantic combines a collaborative global approach, sector-specific expertise, long-term investment horizon, and a deep understanding of growth drivers to partner with great management and build exceptional businesses worldwide. General Atlantic has more than 100 investment professionals based in New York, Amsterdam, Beijing, Greenwich, Hong Kong, London, Mexico City, Mumbai, Munich, Palo Alto, São Paulo, and Singapore. www.generalatlantic.com.[:es]General Atlantic, firma de capital privado global líder en inversiones en compañías de alto crecimiento, anunció hoy el nombramiento del ex presidente de Avianca y actual Presidente de Decameron, Fabio Villegas, como su Asesor Especial en Colombia. Villegas trabajará en estrecha colaboración con los equipos de General Atlantic en América Latina, con el principal objetivo de identificar y apoyar las oportunidades de negocio en la región.
"Estamos muy complacidos de dar la bienvenida a Fabio, un líder indiscutible y experimentado ejecutivo, al equipo de General Atlantic" afirmó Bill Ford, CEO de General Atlantic. "Más allá de su capacidad de liderazgo, el profundo conocimiento que tiene Fabio del entorno empresarial colombiano y su amplia red de relaciones lo convierten en un activo excepcional para nuestra firma, nuestro portafolio de compañías y nuestros prospectos de inversión en este país."
Al respecto, Martin Escobari, socio principal de General Atlantic para Latinoamérica aseguró: "Fabio es un respetado asesor y conocido hombre de negocios en Colombia. Ha trabajado con grandes organizaciones a lo largo de su trayectoria y creemos que su visión empresarial será relevante para apoyar el éxito de General Atlantic en Colombia."
El equipo global de General Atlantic se dedica a identificar compañías atractivas y de alto crecimiento, para proveerles capital y apoyo estratégico con el objetivo de construir líderes del mercado. Villegas se une al creciente equipo de asesores de la firma, integrado por ejecutivos de alto nivel, con habilidades industriales y operacionales en áreas estratégicas para General Atlantic y su portafolio de compañías.
General Atlantic tiene fuertes lazos con el mercado sudamericano, con muchas de las compañías que hacen parte de su portafolio operando activamente en Colombia. La firma invirtió en SURA Asset Management, gestor privado de fondos de pensiones lider en América Latina, con sede en Colombia, y apoyó al Grupo Sura en sus adquisiciones de los activos de pensiones de ING en Latinoamérica antes de su salida de esta inversión a principios de este año. Las inversiones recientes de General Atlantic en América Latina incluyen Pague Menos, Ourofino Saúde Animal, SAS Sistema de Ensino (SAS), XP Investimentos, Sanfer y Despegar.com.
"General Atlantic es uno de los inversionistas más respetados en América Latina. Juntos podemos enriquecer las capacidades de la firma en asociarse con familias locales y equipos gerenciales para generar valor en sus compañías. Estoy ansioso de poder trabajar con este equipo", dijo Villegas.
Villegas se une a General Atlantic después de trabajar en Avianca, la aerolínea más grande de Colombia, desde 2005 y hasta 2015. En su paso por Avianca, Villegas lideró su transición de ser una compañía del mercado local a convertirse en una empresa que cotiza en la bolsa, tanto de Colombia como de Nueva York. Actualmente es el Presidente de Decameron, una de las principales cadenas hoteleras en América Latina.
Previo a Avianca y Decameron, Villegas se desempeñó como asesor de la Organización Luis Carlos Sarmiento, como responsable de las operaciones colombianas de Deutsche Bank y Grupo Rothschild, y lideró la Asociación Nacional de Instituciones Financieras (ANIF). A lo largo de su carrera, se ha desempeñado en cargos clave para el sector público y privado, incluyendo su cargo como Secretario General de la Presidencia de la República de Colombia y como Ministro de Gobierno.
Sobre General Atlantic
General Atlantic es la compañía líder en inversiones de capital y apoyo estratégico para compañías en crecimiento. Establecida en 1980, General Atlantic combina un enfoque colaborativo global, experiencia en sectores específicos, un horizonte de inversión a largo plazo y un profundo entendimiento de impulsores de crecimiento, para aliarse con familias y equipos gerenciales de alto nivel y construir empresas líderes en todo el mundo. General Atlantic cuenta con más de 100 profesionales de inversión con sede en Nueva York, Amsterdam, Beijing, Greenwich, Hong Kong, Londres, Ciudad de México, Mumbai, Munich, Palo Alto, Sao Paulo y Singapur. www.generalatlantic.com