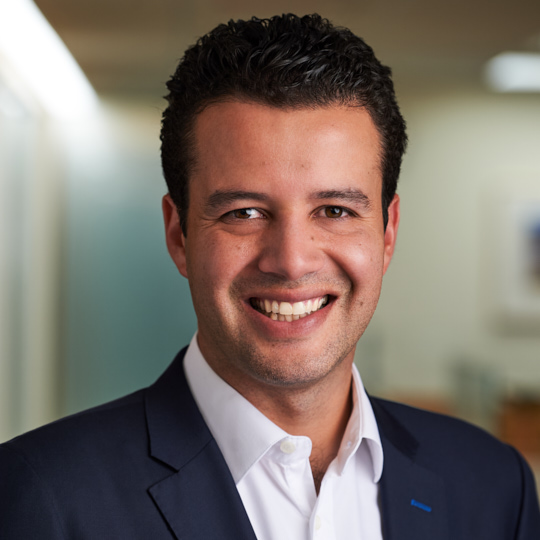 General Atlantic Opens Mexico City Office and Expands Local Presence in Latin America[:es]GENERAL ATLANTIC ABRE OFICINAS EN MÉXICO Y EXPANDE SU PRESENCIA EN AMÉRICA LATINA
June 10, 2015
General Atlantic, a leading global growth equity firm, announced today that it has opened an office in Mexico City, its second office in Latin America.  Under the leadership of General Atlantic's dedicated Mexican-born investment team, the Mexico City office will work closely with the firm's larger Latin American team, its Brazil office, and the entire General Atlantic global network.
"As growth equity investors, we are big believers that Mexico's time is now and that the country is poised to become one of the biggest and most important economies in the world," said William Ford, Chief Executive Officer of General Atlantic. "By deepening our presence in Mexico City, our Latin America team will be even closer to the companies, families, and entrepreneurs that will drive a powerful global growth story. I believe our unique partnership approach is well suited to the Mexican market and we look forward to partnering with Mexican entrepreneurs to fund and support their regional and global plans."
General Atlantic's local team in Mexico will be led by Luis Cervantes Legorreta, a Mexico City native who joined General Atlantic in 2013 and is focused on the firm's Latin American investments. In regards to General Atlantic's expansion to Mexico, Mr. Cervantes commented, "General Atlantic aims to invest behind families and entrepreneurs in proven businesses with high growth potential, where our capital, ideas, relationships, and experience can accelerate a company's path to global scale. Powered by an expanding middle class and positive reforms, we see great opportunities in Mexico as the nation enters a new phase of economic growth."
With approximately $17.4 billion in capital under management, General Atlantic invests in and provides strategic support for growth companies around the world. Working in close collaboration with its regional teams, the firm has dedicated and experienced teams focused on five industry sectors: Business Services, Financial Services, Healthcare, Internet & Technology, and Retail & Consumer. As thematic investors, General Atlantic looks to identify opportunities in markets and industries experiencing transformative changes, such as globalization, technological innovation, industry consolidation, regulatory changes, and demographic shifts, which lead to high growth potential.
General Atlantic typically acquires significant minority ownership stakes of $50 to $400 million per investment and works as a long-term partner with founding families, entrepreneurs, and company management. The firm made its first investment in Latin America in 2000 and since then has invested over $2 billion in 14 Latin American companies. Under the leadership of Martin Escobari, Managing Director and Head of Latin America, General Atlantic has recently made investments in Latin American companies including Sanfer, a leading Mexican pharmaceutical company, Ourofino, a leading Brazilian animal health company, and SAS Sistema de Ensino, a leading Brazilian learning systems provider.
The firm's global portfolio also includes several companies that conduct significant business in Mexico, including Sura Asset Management, Santander Asset Management, online travel agency Despegar.com, and leading online fashion retailer Privalia.
In Mexico City, General Atlantic is also supported by a team of notable Special Advisors who have significant experience and knowledge of the Mexican market and who provide strategic counsel to the firm and its portfolio companies. Special Advisors in Mexico include: Enrique Castillo, former Chairman of Ixe Grupo Financiero and the former head of the Mexican Bankers Association; Luis Cervantes Sr., co-founder and Chairman of Finaccess Mexico and former Chief Executive Officer of Mutlivalores Grupo Financiero; and Javier Molinar, former Chief Executive Officer of Ixe Grupo Financiero.
About General Atlantic
General Atlantic is a leading global growth equity firm providing capital and strategic support for growth companies. Established in 1980, General Atlantic combines a collaborative global approach, sector specific expertise, a long-term investment horizon and a deep understanding of growth drivers to partner with great entrepreneurs and management teams to build exceptional businesses worldwide. General Atlantic has more than 100 investment professionals based in New York, Amsterdam, Beijing, Greenwich, Hong Kong, London, Mexico City, Mumbai, Munich, Palo Alto, São Paulo and Singapore. www.generalatlantic.com[:es]General Atlantic, firma global de inversiones de capital privado, anunció hoy la apertura de sus oficinas en la Ciudad de México, su segunda oficina en Latinoamérica. Bajo el liderazgo del equipo de inversión mexicano de General Atlantic, la oficina de México trabajará en estrecha colaboración con el gran equipo de América Latina, la oficina en Brasil y toda la red global de General Atlantic.
"Como inversionistas de capital privado, creemos que este el momento de México es ahora y que el país está listo para convertirse en una de las economías más grandes e importantes del mundo", señaló William Ford, Director General Global de General Atlantic. "Al expandir nuestra presencia en México, nuestro equipo de América Latina estará aún más cerca de las compañías, familias y empresarios que impulsarán una historia de crecimiento mundial de gran alcance. Creo que nuestro modelo de asociación único es muy compatible con el mercado mexicano y esperamos asociarnos con empresarios mexicanos para financiar y apoyar sus planes de expansión a nivel regional y global".
El equipo local en México de General Atlantic será liderado por Luis Cervantes Legorreta, originario de la Ciudad de México, quien se unió a General Atlantic en 2013 y está focalizado a las inversiones latinoamericanas de la firma. Sobre la expansión de General Atlantic en México, el Sr. Cervantes comentó: "General Atlantic tiene como objetivo asociarse con familias y empresarios en negocios probados con un alto potencial de crecimiento, donde nuestro capital, ideas, relaciones y experiencia puedan acelerar la trayectoria de la empresas a una escala global. Impulsado por la expansión de la clase media y la aprobación de reformas estructurales, vemos grandes oportunidades en México y creemos que el país está entrando en una nueva fase de crecimiento económico".
Con aproximadamente $17.4 mil millones de capital bajo gestión, General Atlantic invierte y proporciona apoyo estratégico a empresas en crecimiento alrededor del mundo. Al trabajar en estrecha colaboración con los equipos regionales, la firma cuenta con equipos experimentados y dedicados que se centran en cinco sectores industriales: Servicios Empresariales, Servicios Financieros, Salud, Internet y Tecnología así como Distribución y Consumo. Como inversores especializados, General Atlantic busca identificar oportunidades en mercados e industrias que experimentan cambios transformadores, como la globalización, innovación tecnológica, consolidación de la industria, cambios regulatorios y cambios demográficos que conducen a un alto potencial de crecimiento.
General Atlantic, normalmente, adquiere participaciones minoritarias significativas con un rango de inversión de $50 a $400 millones de dólares por transacción y trabaja como un socio a largo plazo con familias, empresarios y con la dirección de la empresa. La firma realizó su primera inversión en América Latina en el 2000 y desde entonces ha invertido más de $2 mil millones de dólares en 14 empresas latinoamericanas. Bajo el liderazgo de Martín Escobari, Socio Director y Jefe de Latinoamérica, General Atlantic ha realizado inversiones recientes en América Latina, incluyendo Sanfer, compañía mexicana líder en el sector farmacéutico, Ourofino, compañía líder en salud animal de Brasil, y SAS Sistema de Ensino, proveedor líder de sistemas de aprendizaje en Brasil.
El portafolio global de la compañía incluye también diversas empresas que llevan a cabo negocios relevantes en México, como Sura Asset Management, Santander Asset Management, Despegar.com y Privalia.
En México, General Atlantic cuenta con el apoyo de un equipo de consejeros que tienen una gran experiencia y conocimiento del mercado mexicano y que proporcionan asesoramiento estratégico a General Atlantic y al portafolio de empresas. Los consejeros en México incluyen a: Enrique Castillo Sánchez Mejorada, ex Presidente del Consejo de Ixe Grupo Financiero y ex Presidente de la Asociación de Banqueros de México; Luis F. Cervantes, Co-fundador y Presidente del consejo de Finaccess México y ex Director General de Mutlivalores Grupo Financiero; y Javier Molinar, ex Director General de Ixe Grupo Financiero.
Acerca de General Atlantic
General Atlantic es una firma global líder de capital privado que proporciona capital y apoyo estratégico a empresas en crecimiento. Fundada en 1980, General Atlantic combina un enfoque de colaboración global, conocimientos específicos del sector, un horizonte de inversión a largo plazo y un profundo conocimiento de los motores de crecimiento para asociarse con grandes empresarios y equipos directivos para construir empresas excepcionales en todo el mundo. General Atlantic cuenta con más de 100 profesionales de inversión con sede en Nueva York, Amsterdam, Pekín, Greenwich, Hong Kong, Londres, Ciudad de México, Bombay, Munich, Palo Alto, São Paulo y Singapur. www.generalatlantic.com